Pumpkin season is here and we're absolutely loving it! Pumpkins go so well with both sweet and savory dishes. Although these pumpkin crêpes are filled with chicken, zucchini and mushrooms, you can absolutely enjoy them with some sweet fillings as well! Banana and whipped coconut cream or lemon custard and coconut yogurt would work amazing in these!
This recipe is paleo, gluten free, dairy free, low carb, keto friendly and flourless! These pumkpkin crêpes are so healthy, nutritious and filling. Perfect for breakfast, lunch or dinner – you choose!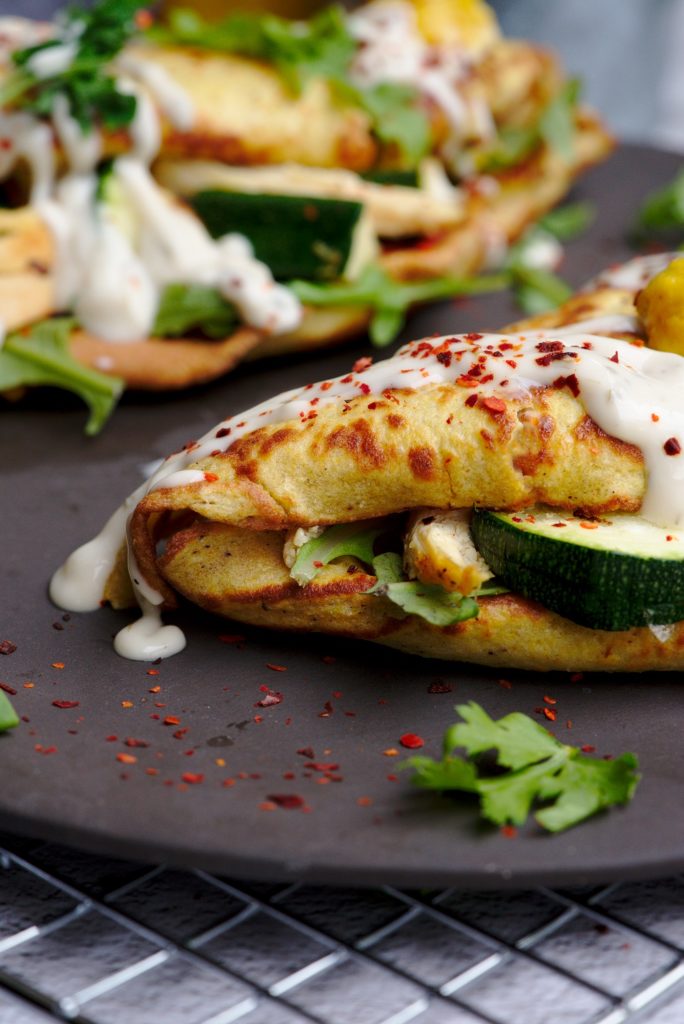 You need:
For the pumpkin crêpes:
4 eggs
¼ cup pumpkin puree
¼ cup fine almond flour
1 tsp salt
1 tsp ground ginger
1 tsp ground black pepper
1 tsp ground nutmeg
For the filling:
Sauteed chicken breast, mushrooms and zucchini (season with salt and pepper)
Lettuce
Arugula
Tomato sauce
Coconut yogurt (season with salt and pepper)
Instructions:
In a bowl, whisk together almond flour and eggs. Add in the pumpkin puree, salt and spices, and stir until smooth.
Heat a greased pan and pour some batter to cover the whole surface of the skillet with a thick layer. Cook over medium heat until golden brown on both sides.
Serve with fillings like: a base of tomato sauce, chicken-mushroom-zucchini filling, lettuce and arugula. Top with coconut yogurt.
Enjoy!