Well isn't this a masterpiece! If you love chocolate, you're in the right place. The combination of flavors is mind-blowing.
The chocolate cake is dense and fudgy, especially after it's been in the fridge and soaked up some of the coconut cream. The cream is not too sweet and acts as a bridge between two strong flavors – the chocolate and the tart cherries. Just lovely!
As always, this recipe is paleo, gluten free and dairy free. Yes, you can enjoy decadent desserts without worrying if it's good for you or not.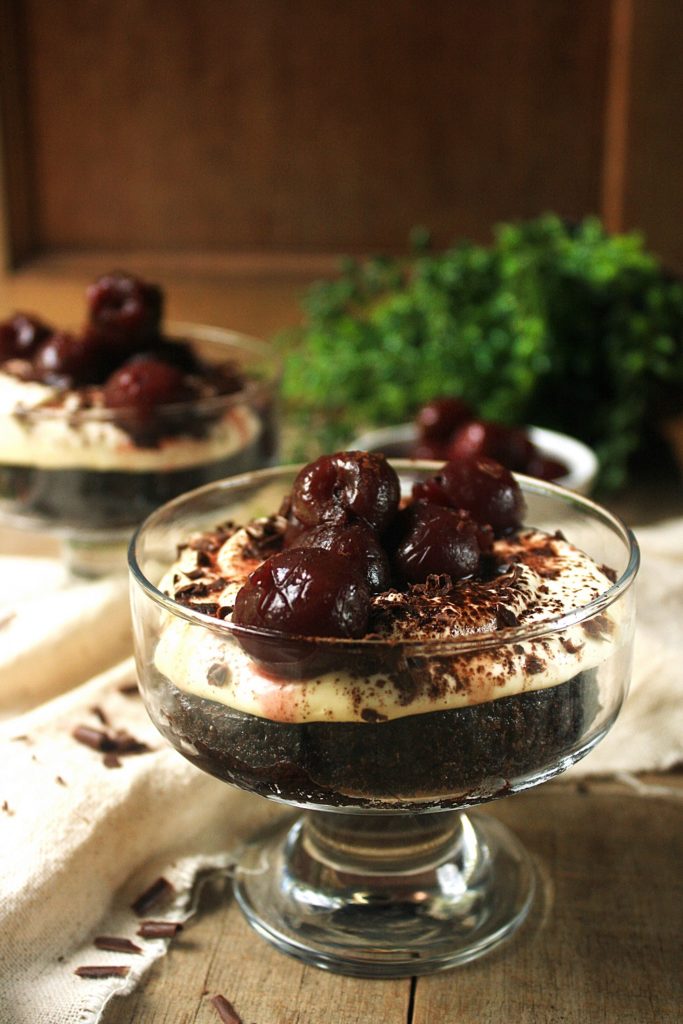 You need:
1/3 cups dark chocolate (min 72%)
1/3 cups pure butter or coconut oil
2 eggs
2/3 cup honey, separated
1/3 cup ground almond
2 tbsp raw cacao powder
¼ tsp baking powder
1 cup coconut cream, chilled overnight
1 pound cherries, stoned
¼ cups water
Extra cacao powder, for dusting
Extra chocolate, to serve
Instructions:
Preheat oven to 325°F. Line an 8" square baking tin with parchment paper.
Melt chocolate and butter or coconut oil in a microwave or over a double-boiler. You can melt them together. Add in 1/3 cups of honey and stir until fully combined.
Next, add in the eggs into the chocolate mixture and stir. Set aside.
In another bowl, mix together Ground Vanilla Bean , ground almond, cacao powder, and baking powder.
Pour the dry ingredients into the chocolate mixture and stir until thoroughly combined. Pour the batter into prepared baking tin.
Bake for 15-20 minutes, until the top cracks slightly. Set aside to cool.
Meanwhile, pour water, 3 tbsp of honey and the cherries into a saucepan. Bring to a boil. Once it boils, lower the heat and let it simmer for 8-10 minutes, stirring once in a while until the cherries are soft and most of the water has evaporated.
Whip the coconut cream until stiff. Add in 3 tbsp of honey and whip until combined.
To serve, cut the chocolate cake into squares and layer into a serving bowl. Thickly spread coconut cream on top and dust with cacao powder. Shave some chocolate on to the cream and top with cherries. Serve cold.
Enjoy!