Chocolaty and bittersweet! It's a great pudding for a healthy breakfast, lunch break or dessert. And even the kids will love this!
The caramelized bananas and coconut lend a tropical feel to this pudding. It's so creamy and literally melts in your mouth! And once again, it's paleo, vegan (see options below), dairy free and gluten free.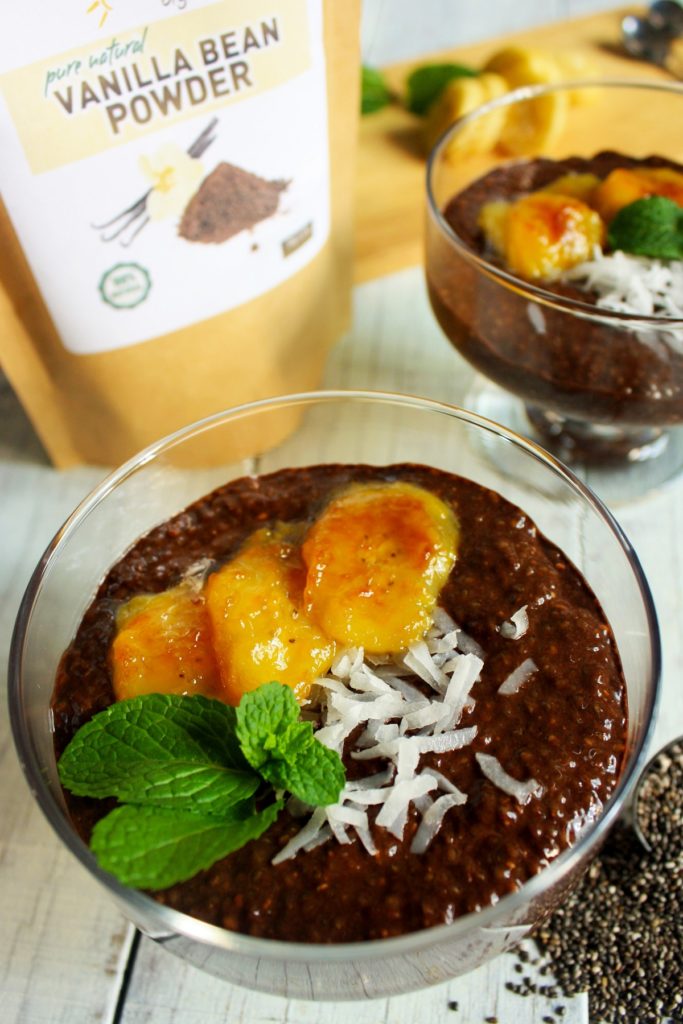 You need:
¼ cup chia seeds
1 cup light coconut milk
2 ½ tbsp. raw cocoa
2 tbsp. water
¼ cup honey or a plant based alternative like maple syrup or agave
1 tsp coconut oil
1 large banana, sliced
Unsweetened coconut flakes, to serve
Instructions:
Mix chia seeds, coconut milk, cocoa powder, water, Ground Vanilla Bean and half of the sweetener (honey or plant based alternative) together. Divide among serving cups/glasses. Chill in the fridge for at least two hours.
When you're about to serve, heat up the coconut oil over medium-high heat. Fry the banana until golden and caramelized.*
Place the caramelized bananas on the banoffee pudding and drizzle with remaining 2 tbsp. of sweetener. Serve with unsweetened coconut flakes.**
Enjoy!
*Be careful when frying the bananas, as they get soft and can get squashed easily. A great way to reduce this risk is to slice the banana thickly.
**You can also serve this with a variety of toppings, like chocolate chips, nuts and so on.
Recipe taken and adapted from taste.com.au